Barclays Center | Brooklyn, New York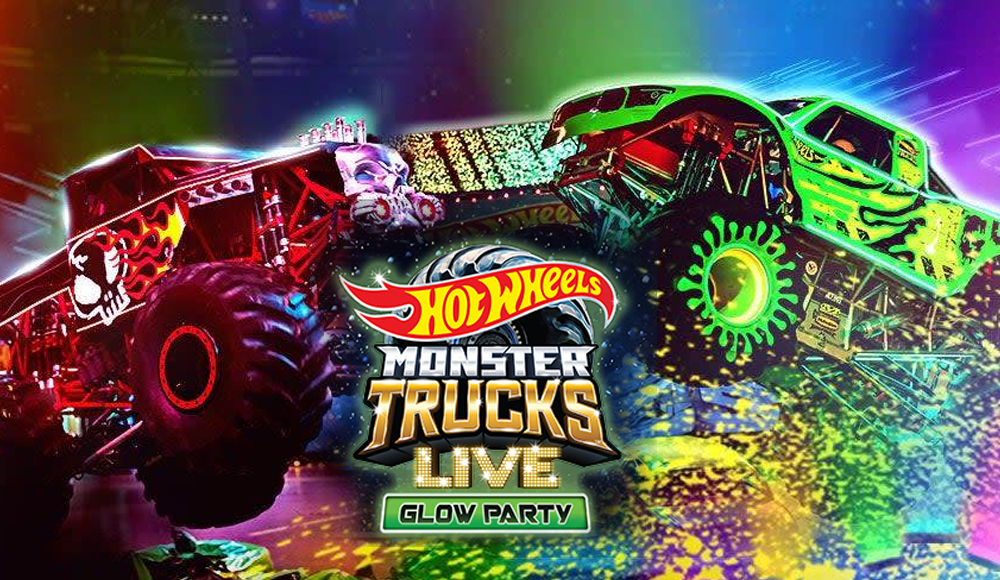 Everyone's favorite Hot Wheels Monster Trucks are coming to life! For the first time ever, life-sized Hot Wheels trucks are performing massive stunts and electrifying feats at Monster Trucks Live - Glow Party, live at Barclays Center on Sunday, September 30th of this year. This time around, the trucks are facing head-on in the dark! Fans of all ages have the chance to catch their favorite trucks jump and rage on the track, including head-turning performances by Mega Wrex™, Tiger Shark™, Boneshaker™, Bigfoot®, and more. But wait... there's more! Joining its outrageous truck battles and stunts, the newest member of the gang, the all-new Gunkster™, is revving its engines for a fire-breathing monster truck mayhem. Together, they're lighting up the floor as the place dims the lights and puts on a spectacular laser light show. Moreover, the Glow Party will also feature a dance party and a ton of Hot Wheels up for grabs. Don't miss out by booking your tickets now!
Get ready to rev your engines and make your way to an astounding Glow Party as your favorite Hot Wheels Monster Trucks come to life. Engines are roaring as Mega Wrex™, Tiger Shark™, Boneshaker™, Bigfoot®, and many more rev up and smash their pedals. Fans of all ages are bound to experience the thrill of witnessing life-sized models of Hot Wheels jump, fly, crash, and breathe fire at a one-of-a-kind Glow Party.
Hot Wheels Monster Trucks Live will take Barclay's Center arena floor by storm, staging a slew of competitions, battles, and a dazzling dance party with spectacular laser lights. Moreover, audiences stand a chance to win a bunch of Hot Wheels giveaways up for grabs!
Competitions and battles usually take place in rough terrain, splashing mud and soil all over the place as drivers brace to hit and crash into cars and battle competition teams. There's also doughnut competitions and a freestyle competition where the trucks show all of their might.
"It's kind of funny but I closed my eyes the first time I hit a set of cars," Rebecca Schnell of Bigfoot's team shared, as cited from an Ahwatukee Foothill News feature. "Your brain doesn't understand that when you're strapped into a big machine like this, that it really doesn't hurt. You have to train your brain a little bit in order to get used to that impact."
We definitely have to remind ourselves that within these monstrous beasts are normal humans, just like us. These powerful athletes are in full control of the Glow Party's huge surprises. So, get ready to root for your favorite trucks and their talented drivers!
Lighting up the floor and bringing new beats to its raved live battles, Hot Wheels Monster Trucks Live is definitely worthy of the whole family's bucket list. People of all ages are up for an adrenaline rush as the trucks roar and rage across the venue. Then, everyone's invited to jump and rock it out as dazzling laser lights take over.
Don't miss out on Hot Wheel's monstrous Glow Party by booking your tickets now!