Barclays Center | Brooklyn, New York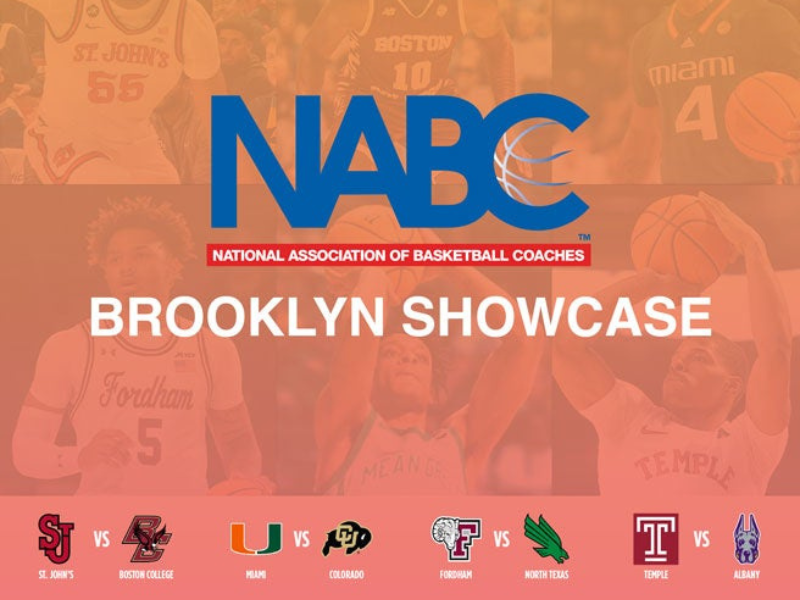 It's an exciting time for basketball fans as a new season of tournaments are rounding up. With that said, the National Association of Basketball Coaches has just assumed rights for the Brooklyn Invitational from the Naismith Basketball Hall of Fame. This exciting 2023 event will be operated and hosted by the NABC.
The NABC Brooklyn Showcase will commence on Sunday, the 10th of December, 2023 in Brooklyn, New York. The quadruple header will feature eight Division I men's basketball programs from across the nation in an exciting event. The teams are representing many of basketball's top conferences. The selected teams are the following: Fordham, North Texas, Miami (Fla.), Colorado, St. John's, Boston College, Temple, and UAlbany.
Witness this thrilling showcase filled with some of the best teams in the nation! Grab your tickets here right now by clicking 'get tickets.' Be quick - they are selling fast!
The NABC Showcase is coming to Brooklyn, New York this winter. Catch the stars of the Division I men's basketball teams in this exciting run as they take on each other in a showcase like never before. The teams who will partake in the said showcase are from St. John's, Boston College, Miami, Colorado, Fordham, North Texas, Temple & Albany. Get ready to catch them live in this quadruple header event! The event schedule are as follows:
Fordham vs. North Texas (11:30 a.m. ET)
Last season, 2023 NIT winner UNT won 31 games and set a program-record. UNT is beginning its first season with Ross Hodge as its head coach. In the standings of the Atlantic 10 Conference, the Rams came in a tie for second place. Coach of the Year in the A-10 for 2023 is head coach Kieth Urgo.
Miami (Fla.) vs. Colorado (2:00 p.m. ET)
After compiling a 29-8 performance, Miami ended the previous season as the third-ranked team in the USA TODAY Sports Coaches Poll. Colorado has never lost to the Hurricanes in their history. In 1957, they defeated Miami by a score of 73-66.
St. John's vs. Boston College (4:30 p.m. ET)
The two teams are renewing their rivalry for this showcase. St. John's and Boston College faced each other annually from 1979 through 2005 as founding members of the Big East Conference, with Boston College holding a 27-46 overall. Boston College is 5-5 all time at the Barclays Center, meanwhile St. John's holds an 8-2 record in the same arena.
Temple vs. UAlbany (7:00 p.m. ET)
Temple head coach Adam Fisher is excited to head to the Barclays Center for this showcase. "It will be a great opportunity for our New York alumni and all our Temple fans to come watch us play in an NBA arena against a really good Albany team." They hold 20 Times (Reg. Seas.), 10 Times (Tourn.) conference titles.
Get ready to witness the NABC Showcase! This is going to be one of the hottest basketball showcases this upcoming season. Watch in awe as the teams show off their skill and talents. Secure your tickets right now!